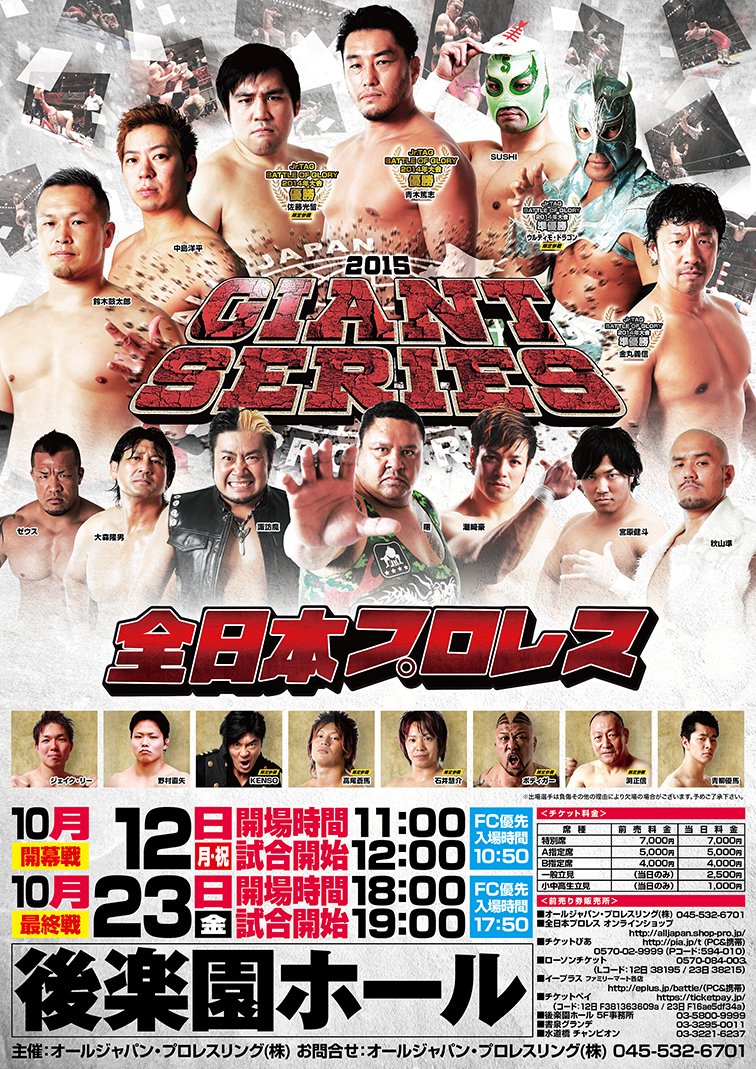 All Japan Pro-Wrestling "2015 Giant Series ~ Jr. TAG BATTLE OF GLORY", 10/23/2015 [Fri] 19:00 @ Korakuen Hall in Tokyo
(1) Keiichi Sato Debut Match: Yoshinobu Kanemaru vs. Keiichi Sato
◆Winner: Kanemaru (8:49) with a Hollywood Star Press.
~ Keiichi makes his debut, wearing orange tights, and showcased both a solid missile dropkick and vertical suplex. It was noted at as a good debut, he showcased a decent resilience and solid traits for his young age.
(2) 6 Man Tag Match: Naoya Nomura, Yuma Aoyagi & Jake Lee vs. Shuji Ishikawa [FREE], Hiroshi Fukuda [DDT] & Hoshitango [DDT/FREE]
◆Winner: Shuji (10:49) following a Running Knee Lift on Lee.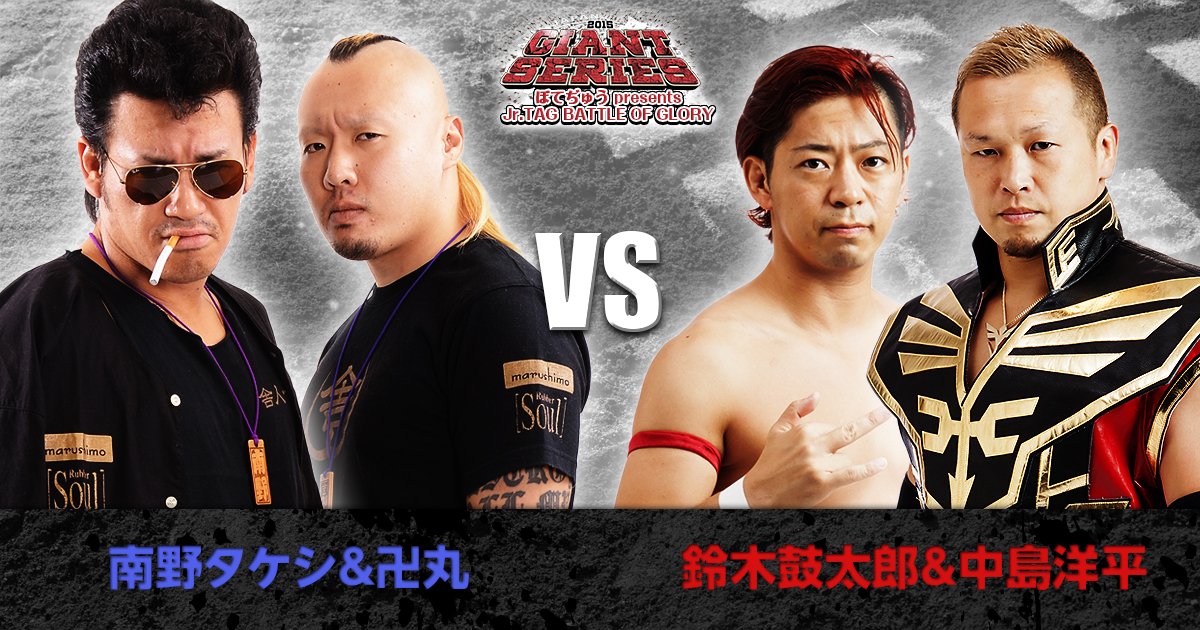 (3) Jr. TAG BATTLE OF GLORY Match: Kotaro Suzuki & Yohei Nakajima vs. Takeshi Minamino & ManjiMaru [both Toneri Family]
◆Winner: Kotaro (11:36) with the Requiem on Minamino.
(4) 3WAY Match: Suwama vs. Kento Miyahara vs. Zeus
◆Winner: Miyahara (7:08) via foul, Zeus with a chair shot.
~ Zeus got fed up with being an afterthought this whole tour and decided to take the cheap opening.
~ Kento once more denied entering into Evolution, but he did make it known that he is indeed interested in teaming with Suwama in the upcoming World's Strongest Tag League.
(5) 8 Man Tag Match: Akebono, Yutaka Yoshie [FREE], Osamu Nishimura [FREE] & KENSO [FREE] vs. Jun Akiyama, Takao Omori, Masanobu Fuchi & Ultimo Dragon
◆Winner: Nishimura (13:46) with a Backslide on Fuchi.
~ Akebono took out Akiyama with a Yokozuna Impact outside the ring allowing Nishimura to capture the win.
~ Kotaro/Yohei [1 win, 1 draw, 2 losses = 3 points]
~ Minamino/Manji [1 win, 3 losses = 2 points]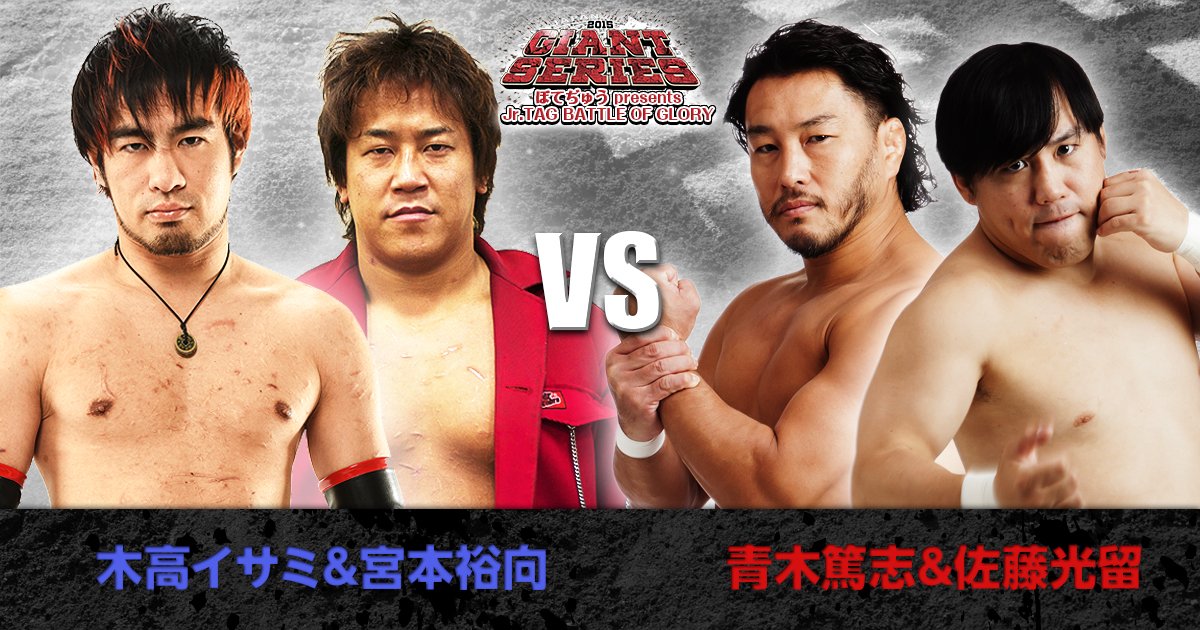 (6) Jr. TAG BATTLE OF GLORY Match: Atsushi Aoki & Hikaru Sato [Pancrase MISSION] vs. Yuko Miyamoto [666] & Isami Kodaka [BASARA]
◆Winner: Aoki (21:52) with the Assault Point on Miyamoto.
~ Aoki & Hikaru win the Jr. Tag Battle of Glory for a second year in a row.
~ Aoki/Hikaru [3 wins, 1 loss = 6 points]
~ Miyamoto/Isami [2 wins, 1 draw, 1 loss = 5 points]
AJPW Event Cards for September & October 2015
http://puroresuspirit.net/2015/08/ajpw-event-cards-for-september-october-2015/
Previous Days Results
~ AJPW [Jr Tag Day 1] results for October 12, 2015
~ AJPW [Jr Tag Day 2] results for October 14, 2015
~ AJPW [Jr Tag Day 3] results for October 15, 2015
~ AJPW [Jr Tag Day 4] results for October 17, 2015
~ AJPW [Jr Tag Day 5] results for October 18, 2015
~ AJPW [Jr Tag Day 6] results for October 19, 2015
~ AJPW [Jr Tag Day 7] results for October 21, 2015
~ AJPW [Jr Tag Final Day] results for October 23, 2015 [ABOVE]