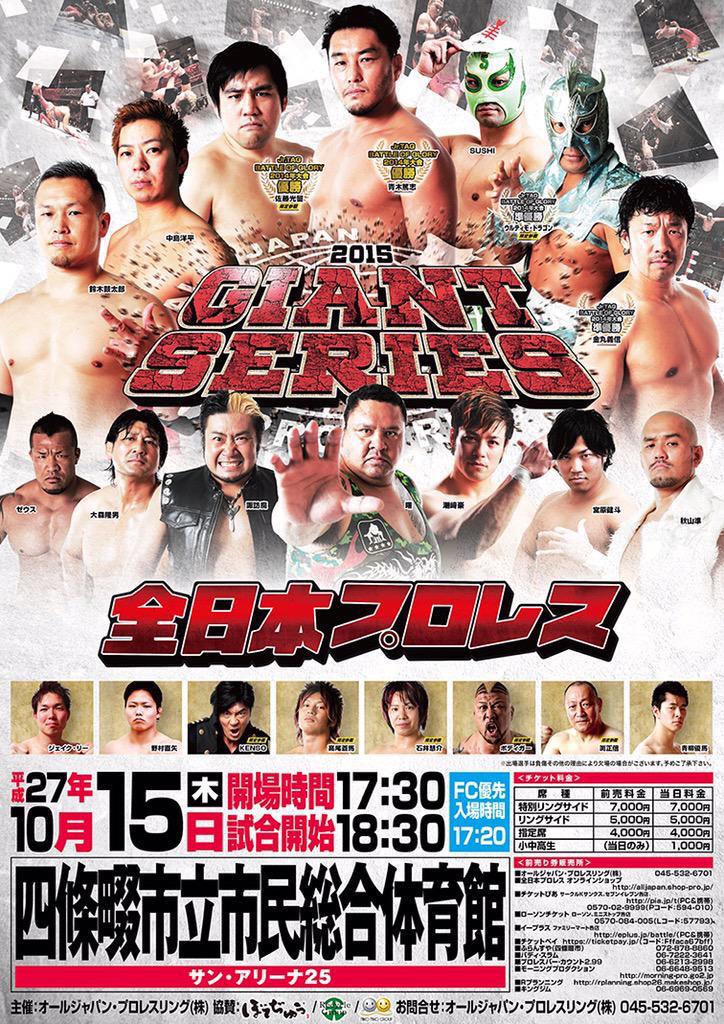 All Japan Pro-Wrestling "2015 Giant Series ~ Jr. TAG BATTLE OF GLORY", 10/15/2015 [Thu] 18:30 @ Shijinowate City Taichi Shimin Sogo Taiikukan in Osaka
(1) Kotaro Suzuki vs. Yuma Aoyagi
◆Winner: Kotaro (10:53)
(2) Suwama vs. Yohei Nakajima
◆Winner: Suwama (4:10) following the Last Ride.
~ Suwama continued to state that Miyahara will join Evolution.
(3) Zeus & The Bodyguard [FREE] vs. Kuishinbo Kamen & Kazuaki Mihara [both Doutonbori]
◆Winner: Bodyguard (14:59) with an Argentine Backbreaker on Kuishinbo.
(4) Takao Omori & Jake Lee vs. Kento Miyahara & Masanobu Fuchi
◆Winner: Kento (12:56) with a German Suplex Hold on Lee.
(5) Jr. TAG BATTLE OF GLORY Match: Atsushi Aoki & Hikaru Sato [Pancrase MISSION] vs. Takeshi Minamino & ManjiMaru [both Toneri Family]
◆Winner: Manjimaru (7:55) following the Manji-Otoshi on Hikaru.
~ Minamino/Manimaru [1 win = 2 points]
~ Aoki/Hikaru [1 win, 1 loss = 2 points]
~ Toneri Family claim the win over last years winning team.
(6) Akebono, KENSO [FREE] & Naoya Nomura vs. Jun Akiyama, Yoshinobu Kanemaru & Ultimo Dragon [Toryumon MEXICO]
◆Winner: Dragon (10:23) via pin-fall on Nomura.
AJPW Event Cards for September & October 2015
http://puroresuspirit.net/2015/08/ajpw-event-cards-for-september-october-2015/