All Japan Pro-Wrestling "3rd Annual Oudou Tournament ~ 2015 Open Championship", 9/24/2015 [Thu] 18:30 @ Koriyama City Minami Tohoku Sogo Oroshi Center in Fukushima
(1) Yuma Aoyagi vs. Takeshi Minamino [FREE]
◆Winner: Minamino (7:57) following a Death Valley Bomb.
~ Minamino stated that he is aiming for another chance at the Asia Tag belts following the upcoming Jr. League.
(2) Takao Omori & Naoya Nomura vs. Masao Inoue [FREE] & Yutaka Yoshie [FREE]
◆Winner: Yoshie (15:25) with a Jumping Body Press on Nomuta.
(3) Jun Akiyama & Ultimo Dragon vs. Masanobu Fuchi & Yohei Nakajima
◆Winner: Akiyama (18:35) following an Exploder on Yohei.
(4) Akebono & KENSO [FREE] vs. Zeus & The Bodyguard
◆Winner: Zeus (11:28) following a F5 on KENSO.
~ Akebono stated that this upcoming singles match with Shuji has been long coming now, but Akebono declared that he will win.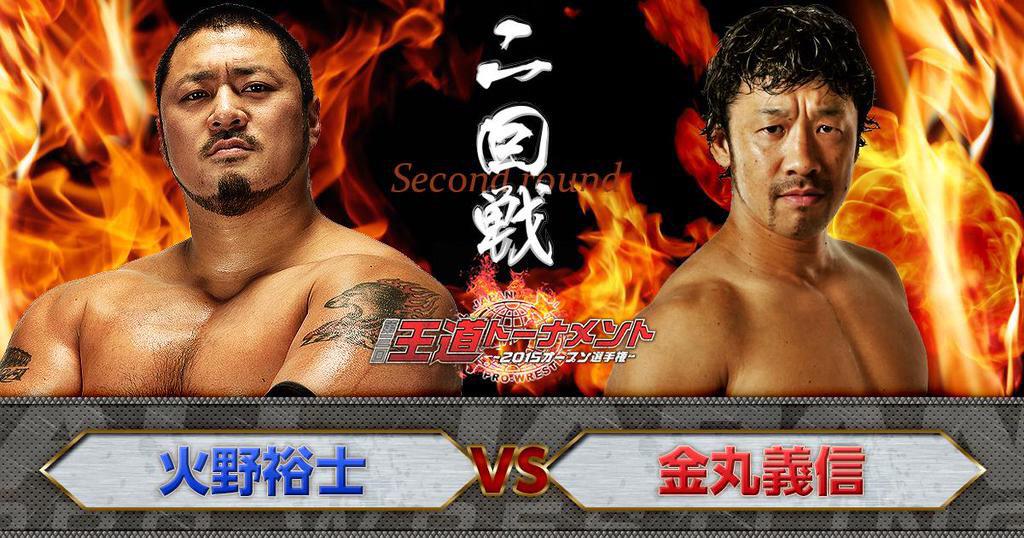 (5) Oudou Second Round Match: Yoshinobu Kanemaru vs. Yuji Hino [K-DOJO]
◆Winner: Hino (11:39) following the Fucking BOMB.
~ The semi-final match is now set in place as Hino takes on Akiyama.
(6) Go Shiozaki, Kento Miyahara & Kotaro Suzuki vs. Suwama, Atsushi Aoki & Hikaru Sato [Pancrase MISSION]
◆Winner: Shiozaki (23:36) following the Go Flasher on Hikaru.
AJPW Event Cards for September & October 2015
http://puroresuspirit.net/2015/08/ajpw-event-cards-for-september-october-2015/
The semi-finals will now look as follows…
All Japan Pro-Wrestling "3rd Annual Oudou Tournament ~ 2015 Open Championship", 9/26/2015 [Sat] 18:00 @ Korakuen Hall in Tokyo
() Semi-final Match: Jun Akiyama vs. Yuji Hino
() Semi-final Match: Akebono vs. Shuji Ishikawa
() Final Match: