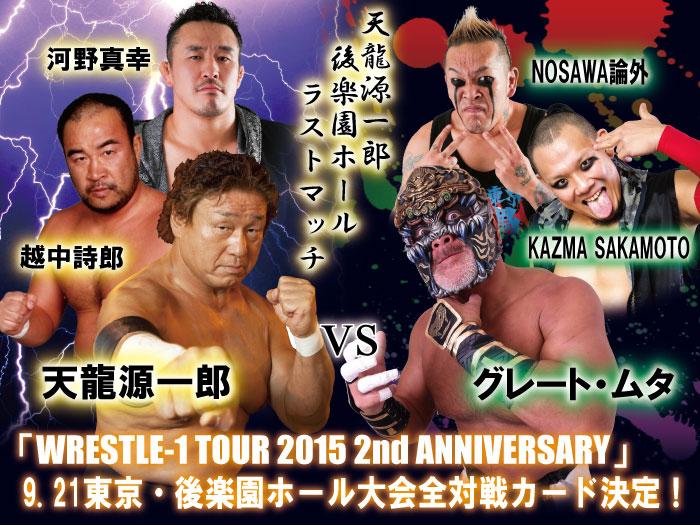 WRESTLE-1 officially announced that Genichiro Tenryu will be competing on the upcoming Korakuen Hall show on September 21st.
Tenryu will be taking part in a 6 man tag match along with Masayuki Kono and Shiro Koshinaka as they take on the new DESPERADO team KAZMA SAKAMOTO and NOSAWA Rongai along with the Great Muta. Tenryu and Muta have history stemming back to WAR in October of 1996 as their showdown even set an attendance record at the Osaka Prefectural Gymnasium. Tenryu also defeated Muta for the Triple Crown championship in October of 2002.
This will mark the first and only time for the veteran to compete in the promotion as Tenryu winds down to his retirement show on November 15th. It should also be noted that Tenryu also stated that this will be his final match at the "Holy Land" of the Korakuen Hall as well.
Below is the announced card…
"WRESTLE-1 TOUR 2015 2nd ANNIVERSARY", 9/21/2015 [Mon] 12:00 @ Korakuen Hall in Tokyo
Newly announced…
() Ryota Hama & Shota [GUTS] vs. MAZADA & Koji Doi
() Kaz Hayashi & Shuji Kondo vs. Hiroki Murase & Shotaro Ashino
() 6 Man Tag Match: AKIRA, Jun Kasai [FREEDOMS] & Kumagoro vs. Yasufumi Nakanoue, Seiki Yoshioka & Jiro "Ikemen" Kuroshio
() W-1 Cruiserweight Prelude Tag Match:
() Special 6 Man Tag Match: Genichiro Tenryu, Shiro Koshinaka [FREE] & Masayuki Kono vs. Great Muta, KAZMA SAKAMOTO & NOSAWA Rongai
Previously announced…
(-) WRESTLE-1 Championship Match: [5th Champion] KAI vs. [Challenger] Manabu Soya
~ 1st title defense.